Welcome to the 22nd Bee Crafty Kids at To the Moon and Back!
A few weeks ago I needed to make some important phone calls and I needed it to be quiet. We all know how that goes when you have 5 children in the house...so before my calls I drug out the huge roll of "end roll" newspaper* and some washable craft supplies and viola, I had an hour of mostly uninterrupted time.
Aside from illustrating an outline of themselves, what else can kids do with end roll?
-Make cave paintings by hanging a piece along a wall or fence
-Roll some out on the ground, paint your children's feet and have them walk over the paper and different speeds. Have them compare their strides. For extra fun you could paint the dog's feet, too!
-Giant paper airplanes
-Create customized wrapping paper with paint, stencils and other supplies
-Life-sized paper dolls
-Tightly twist the paper to make trees and other 3-dimensional designs
-Lots and lots of paper mache
-Make paper beads
by coloring pieces of the end roll and cutting into small triangles. Starting with the wide end, wrap the triangle tightly around a plastic straw. Gently rub a layer of liquid glue around the bead and hold it for a few seconds. Repeat the process, making about 5 beads per straw. When the beads are dry snip them off the straw and string them onto a necklace.
*End roll newspaper is a roll of blank newspaper, it's what the printers have left over. The paper is a thin, light beige color, about 4" tall and each roll has 200 feet or so of paper on it. Our local newspaper sells the rolls for $3 each but if you call and ask nicely they will give you one for free :) If you cannot find end roll newspaper you can also use "postal paper", which is about $5 a roll but is very thick. Another option would be to stock up on wrapping paper after the holiday, or buy it at the dollar store, just roll it out and use the blank inside of the paper.
Meg Grooms is the blogger behind ThisBigHappy.com & HomeschoolGameschool.com. A veteran homeschooler of 13 years, Meg and her husband Jason are raising 5 kids who range in age from 6-17. She and her husband also run a small company aimed to get kids out of the house and into science. You can find them at KidQuestAdventures.com.




Now it's time for YOU to share what you and your children have been crafting!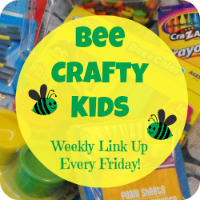 <div align="center"><a href="http://www.tothemoonandbackblog.net/search/label/Bee%20Crafty%20Kids" title="Bee Crafty Kids"><img src="http://i1165.photobucket.com/albums/q594/dustybug83/BeeCraftyKids3_zps44074ad6.png" alt="Bee Crafty Kids" style="border:none;" /></a></div>
Rules are simple:
~Enter the direct link to one or more of your own posts that showcase a craft or hands on activity for children.

~A link back with the above button is appreciated, but not required

~Try to at least comment on one or two of the other blogs that took the time to share and join!
That's it!
I look forward to seeing what you share!