I've been drooling over
Apologia Educational Ministries
materials since I first laid eyes on one of the books that a friend of mine owned and used with her children. I have read countless posts on homeschooling forums from families using the curriculum in their homes, pondering whether or not my children were ready/old enough for us to finally use it in our own homeschool. That time has arrived!
Apologia currently has six books in its creation based, Charlotte Mason styled
Young Explorers
elementary science series for students in grades K-6. Written more like a living book than a textbook, these books are perfect for drawing young children into the world of science with a conversational tone, hands on activities, notebooking, and a biblical worldview.
We received the opportunity to review the first book in their zoology series,
Exploring Creations with Zoology I: Flying Creatures of the Fifth Day
.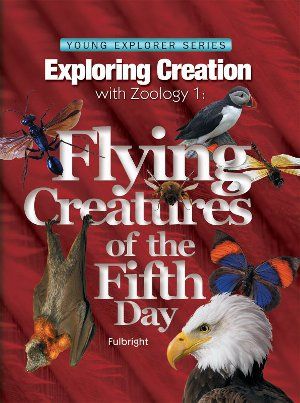 This beautiful hardcover book uses fourteen in depth lessons, spread out over the course of a school year to delve deep into the world of flying creatures. Your children will study the ins and outs of flighted animals from facts about flight to egg hatching and flying reptiles to insect life cycles. There will be virtually no stone left unturned in this course on God's fifth day creations!
Each lesson includes charts, diagrams, and pictures that will captivate students as well as activities, projects, and fun but simple experiments to cement the readings in little minds.
We also were blessed to test out the accompanying
Junior Notebooking Journal
.
This journal is meant for younger students who may not have mastered their penmanship skills yet or who aren't ready for more lengthy written narrations. There is a
journal available for older students
as well, which makes it easier for families with students in varying grade levels to combine their children into one curriculum!
My children particularly enjoyed the coloring pages in the journal, but it also includes puzzles, short writing assignments, crosswords, vocabulary activities and more to help reinforce the information presented in each lesson. While my children shared one journal because my son is only doing preK level work and only helped with coloring, you would typically need one journal per child.
While some may worry about studying only one topic for a full school year,
Apologia Educational Ministries
has mastered the ability to keep the subject interesting and engaging throughout the full term. You will walk away having learned things you may not have even thought of before! (Oh, and your children will as well! ;) )
Other books available in the
Young Explorer Series
are:
Exploring Creation with Zoology 2: Swimming Creatures of the Fifth Day
Exploring Creation with Zoology 3: Land Animals of the Sixth Day
Exploring Creation with Human Anatomy and Physiology
Exploring Creation with Botany
Exploring Creation with Astronomy
The books can be used in any order so you can feel free to choose based on your child's interests. Each textbook retails for $39.00 and each notebooking journal (both regular and junior) retails for $24.00 which makes this a very affordable curriculum! I look forward to using Apologia in our home for many years to come!
To read more reviews on this book and others from Apologia, click the banner below:

Disclaimer: I received a free copy of this product through the Schoolhouse Review Crew in exchange for my honest review. I was not required to write a positive review nor was I compensated in any other way. All opinions I have expressed are my own or those of my family. I am disclosing this in accordance with the FTC Regulations.