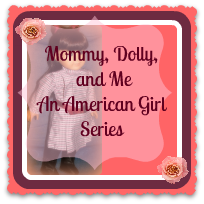 Samantha's Surprise
is the third installment in the Samantha Parkington American Girl series. This volume is set during the Christmas season and follows the young Victorian girl as she struggles with some changes that are happening in her family. Will she learn to love her Uncle Gard's beautiful friend as he does or will she give in to bitterness and resentment towards her? This book provides a good lesson for young girls on looking outward instead of inward and learning to get to know people before making judgements about them.
After we finished this book, Gabriella rushed to grab our copy of
Samantha's Cookbook
off of the shelf. She quickly leafed through the pages because she just
knew
the perfect recipe to make this time: Jelly Biscuits.
At 6.5, Gabby is starting to really enjoy helping me in the kitchen because she is old enough to handle many of the tasks and tools herself with supervision. I tried to let her take the lead this time, only helping when it was necessary.
She sifted the flour and other dry ingredients on her own,
added in the wet ingredients and kneaded the dough,
helped cut out the shapes for the biscuits and even scooped in the jelly with minimal assistance.
I put them in the oven and we waited.
Once they were ready, we decided that Samantha might want to join in on the fun!
This recipe was relatively simple. To make some of your own jelly biscuit, gather up:
2 cups flour
4 teaspoons of baking powder
2 tablespoons of sugar
1/2 teaspoon salt
1/2 cup shortening
3/4 cup milk
1/2 cup of your preferred flavor of jelly or jam
Preheat your oven to 425 degrees and then place the flour, sugar, baking powder, and salt into a sifter. Sift the ingredients into the bowl.
Add the shortening and use a fork to mix it in with the dry ingredients until it looks like coarse meal.
Pour in you milk and mix until it forms a soft dough ball.
Sprinkle some flour on the counter and put the dough ball on it. Knead 12 times and then roll it out to about 1/4" thickness.
Using a cookie cutter, a biscuit cutter, or a round glass, cut out circles from the dough.
Place half of the circles on a baking sheet about an inch apart.
Using a small cookie cutter, cut out a hole in the center of the remaining circles and then place them on top of the whole circles.
Scoop about a teaspoon of jelly into each hole.
Bake for 12-15 minutes and enjoy!
Moving on to our craft for this book(from
Samantha's Craft Book
), we decided to make a potpourri sachet for Gabby to use in her dresser drawer.
This is a simple craft, but it did require more input from me since Gabby does not yet know how to hand stitch.
We gathered up the supplies:
Scissors
Straight Pins
One piece of cotton fabric, 5in square
One piece of lace, 5in square
Ruler
Thread
Needle
Potpourri
Ribbon
Decorative embellishments
Hot glue gun
We traced a heart on to the cotton fabric and the lace. Gabby cut them out with some help and then we placed the lace heart on top of the cotton fabric (which was facing right side up) and pinned them together.
We threaded our needle and then backstitched the hearts together, about a 1/4" away from the edge. I stitched around until there was roughly a 2" opening left. Then we unpinned the fabric and turned it inside out.
Gabby filled the sachet with potpourri and then I pinned the opening shut so that it could be stitched closed. Gabby was actually able to stitch most of this part herself and she was so proud!
Then we added a decorative flower and a butterfly and attached them with a hot glue gun.
As soon as we were done, Gabby promptly ran to place it in the corner of her skirt drawer. Now every morning when she gets dressed she tells me about how wonderful her clothes smell. :)
We're halfway through the Samantha series, but we have taken a break because we were reading some of the
Kirsten Larson
short stories and a mystery book as well. If you've been a reader for awhile, you know that Kirsten was the American Girl that started this series off for us! We'll get back to the Samantha books soon and I'll continue to share with you all the projects and recipes that we do as we complete them!