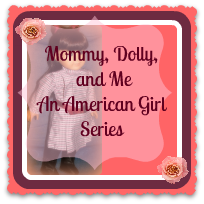 Our
American Girl mommy/daughter time
has now taken us from a Swedish immigrant living in the 1800s to a wealthy orphan being raised by her grandmother in New York City in the early part of the twentieth century. If you missed my earlier posts, Gabriella and I are reading through the historical fiction series available from American Girl together as a special bonding time for just the two of us. Upon the completion of each book in the six book sets devoted to each character, we prepare one recipe from the time period that we choose from the cookbooks that accompany the series and also construct one craft as well. We have now completed the six books about Kirsten Larson and Gabby has chosen the girl that we will read about for the next part of our journey.
Samantha Parkington is a spunky little girl whose wit and compassion are two of her best qualities. Her parents have passed away and she lives with her affluent grandmother who is a stickler for manners and ladylike decorum.
Gabby especially loves the Samantha books in the American Girl historical characters series because she got her very own Samantha doll as one of her gifts this past Christmas. She loves to tote her doll around with her everywhere and even brings her when we sit down to read a chapter from the Samantha books. We finished the first in the set,
Meet Samantha,
and after leafing through the pages of
Samantha's Cookbook
, Gabby chose Strawberries and Cream as her first period recipe to prepare.
This was a fairly simple recipe. We purchased a pint of strawberries from our local grocery store while they were on sale(it's
strawberry season!
) and Gabby carefully cut off the stems and then I rinsed them. Next we cut each berry in half to make it easier to dip!
Next we whipped up some
homemade whipped cream
(but you could also use store bought) and put it in a small bowl.
That was all for this simple treat!
Yum!

Awhile back, Gabby had gotten as a prize from somewhere (maybe AWANAS?) that was one of those paper fans that fold out. It had fish all over it and she carried it

everywhere

exclaiming how hot she was, no matter the temperature, because she simply had to use that thing.

Fast forward a month or so when Mommy may or may not have accidentally left it in a pocket and

washed it in the laundry

.

Yikes! So, when she saw this tutorial to make a similar one in the

Samantha's Craft Book

, she was simply

insistent

that we do it.
Want to make one of your own? You'll first need to get two thin flat wood craft sticks about 8"X 1 1/2" and then paint them the color of your choice. Allow them to dry.
Buy some good quality gift wrap or use some you have stored away and cut a 30"X4" strip. Place a couple of heavy books on it overnight to flatten it.
In the morning, you can fold it accordion style from one end to the other.
Then staple it about 3/4" up from the bottom.
Next, glue your craft sticks on either side of the folded paper about 1/2" below the staple.
Wrap a rubber band around everything to hold it in place and allow to dry.
When the glue is nice and dry, remove the rubber band and pull the sticks apart and around, unfolding your new fan!
Tie a ribbon around the sticks to hold it in place and you're all set!
To close out our learning experience for the first book in the Samantha Parkington series,
Meet Samantha
, we started another lapbook to add to piece by piece as we read through each of the six books.
We went to
the American Girl website
to aid in our information and get a few fun pictures.
We also colored in the appropriate state on a map of the United States to show where in America Samantha lived (
Find FREE American Girl lapbook templates at Homeschool Share
)
A great start to the second leg of our Mommy and Me time! I look forward to updating you all about what we do with each book. What do you do with your daughter to strengthen your relationship?
This post is also linked at:
Weird, Unsocialized Homeschoolers, Preschool Corner, Raising Homemakers, Growing Home and Back to School Monday