Around here, we love cheesecake. Love, love, love, I mean,
really really LOVE
cheesecake. I have attempted a vast variety of flavors at home and have not yet been disappointed with any of the flavors. If you ever eat out at Olive Garden, you may know that they have a white chocolate raspberry cheesecake on their dessert menu. I have made many a dessert only stop there solely for the purpose of devouring that cheesecake. A couple of years ago, I went on the hunt to find a recipe that was as good as that one. There were some variations that were good, but still not on the same caliber. Then, I found
this one
. It looked delicious, so I bookmarked it, printed it out and...forgot about it. One day when I was pouring through my recipes looking for an idea for something to take to a friend's house for dinner, I came across this recipe and decided to give it a shot.
Oh.my.word.
Let me just tell you that this is
dare I say it?
Better
than the cheesecake at Olive Garden. It is absolutely a little slice of Heaven on a plate.
I pulled out the recipe again this week and decided to share it with you all!
So here's what you will need to gather up:
For the crust:
1 cup Oreo crumbs
3 tablespoons white sugar
1/4 cup unsalted butter, melted
For the raspberry sauce:
1 (10-12 ounce) package frozen raspberries
2 tablespoons white sugar
2 teaspoons cornstarch
For the cheesecake:
1/2 cup water
2 cups white chocolate chips
1/2 cup half-and-half cream
3 (8 ounce) packages cream cheese, softened
1/2 cup white sugar
3 eggs
1 teaspoon vanilla extract
Alright, to get started, I used my food processor to crush up about 1/3 of a package of Oreos nice and fine. Then I added the sugar and melted butter and mixed it all up.
Then I pressed the mixture into the bottom of my springform pan. (*Note: use parchment paper on the bottom of the pan for easier removal of the cheesecake later. Ask me how I know this is a good idea. :/) Set aside.
Then get out the frozen raspberries(they do not have to be thawed first) and empty the package into a saucepan. Add the sugar, cornstarch, and water.
Slowly bring to a boil, stirring every few minutes. Allow to boil for about five minutes, or until the sauce thickens.
Use a mesh strainer to separate the seeds and the sauce. Set aside.
Preheat your oven to 325 degrees and get out your double boiler, or be like me and fashion your own with a pot of simmering water and a glass bowl. Once the water is simmering(not boiling!), pour the chocolate chips and half and half in the bowl and stir every few minutes until the chocolate is melted.
In between chocolate stirs, you can work on the cheesecake. But first, insert one gratuitous picture of a cute toddler who likes to hover around your feet as you prepare everything.
Use a large mixing bowl and mix together cream cheese and sugar until smooth. Beat in eggs one at a time. Blend in vanilla and melted white chocolate.
Once mixed well, pour half of batter over crust. Scoop about three tablespoons of the raspberry sauce over batter.
Pour remaining cheesecake batter into pan, and again scoop three tablespoons raspberry sauce over the top. Swirl batter with the tip of a knife to create a marbled effect.
Bake for between 55-60 minutes. Watch carefully, because if you cook too long, you'll end up with a crack in your cheesecake like me. :P In my defense, I was distracted by the aforementioned toddler. When the center is almost set, take it out of the oven and cool on a wire rack. Once cooled, cover with plastic wrap
while still in the pan
and refrigerate for at least 8 hours. After it has set well, you can take it out of the pan and
ENJOY
! Yum, yum, yum.
This post is also listed at: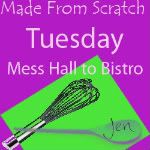 and
Addicted to Recipes